Online Marketplace Development Services
Cutting-Edge Custom Online Marketplace Development by Techwink Services
Key Trends Shaping the Future of Digital Ownership
Navigating the Evolution of NFT Marketplace Development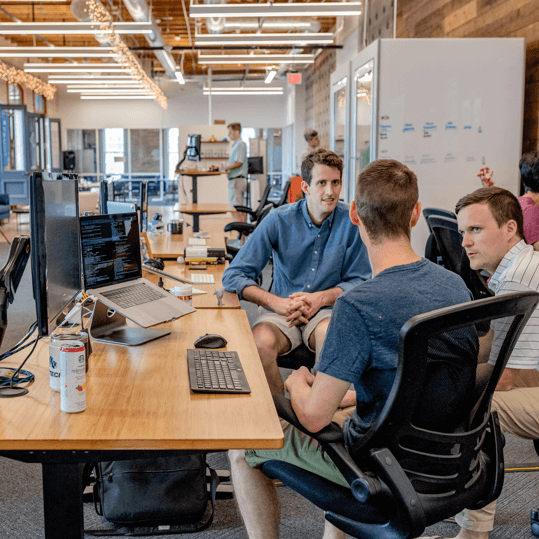 In today's ever-evolving digital landscape, the significance of online marketplaces cannot be overstated. They serve as dynamic hubs, connecting businesses of all sizes with a vast array of consumers. At Techwink Services, we recognize the transformative power of these marketplaces and stand ready to unlock their potential for your business.
Our Online Marketplace Development services are meticulously crafted to address the specific and unique needs of businesses, whether you're a startup or an established enterprise. We understand the vital role that customization plays in ensuring your marketplace aligns with your brand identity and caters to your target audience. Our goal is not only to meet your expectations but to exceed them, delivering a cutting-edge solution that empowers your e-commerce venture.
Conversely, what not to miss involves steering clear of a one-size-fits-all approach. Successful online marketplace development is about tailoring solutions to your unique business model and audience. Neglecting cybersecurity measures can be a critical misstep, as the protection of customer data is paramount. It's imperative to stay agile and adapt to changing market dynamics, ensuring your marketplace remains competitive and customer-centric.
At Techwink Services, we understand the evolving landscape of e-commerce and the immense potential it holds for businesses of all sizes. That's why we're here to offer you cutting-edge Custom Online Marketplace Development services that will not only meet your specific requirements but also exceed your expectations.
Elevate Your Marketplace to New Heights with Techwink

Expertise
With years of experience under our belt, our team of skilled developers, designers, and project managers has a deep understanding of what it takes to create a successful online marketplace. We stay up-to-date with the latest industry trends to ensure your platform is always ahead of the curve.

Tailored Solutions
We believe in one size fits none. Our online marketplace development services are customized to meet your specific business needs. Whether you're a startup looking to launch a brand-new marketplace or an established enterprise seeking to enhance your existing platform, we have the expertise to deliver.

User-Centric Design
We prioritize user experience and design intuitive, user-friendly interfaces. Your customers will enjoy seamless navigation, ensuring higher engagement and conversion rates.

Scalability
Our solutions are built to grow with your business. We design and develop scalable marketplaces that can accommodate increasing product listings, users, and transactions without compromising performance.

Robust Security
We prioritize the safety and security of your marketplace and users. Our developers employ state-of-the-art security measures to protect against threats and ensure data integrity.

Multi-Vendor Support
If you're planning to facilitate multiple vendors on your platform, we've got you covered. We create multi-vendor marketplace solutions that enable efficient vendor onboarding, management, and revenue-sharing.

Payment Integration
Secure and efficient payment processing is essential for any online marketplace. We integrate trusted payment gateways to provide a seamless and secure transaction experience for your users.

Mobile-First Approach
With the increasing use of mobile devices, we prioritize mobile responsiveness to ensure that your marketplace looks and functions flawlessly on all screen sizes.

Analytics and Insights
Our solutions come equipped with robust analytics tools that help you gain valuable insights into user behavior, sales trends, and more. This data empowers you to make informed decisions and optimize your marketplace for success.
Types of Online Marketplaces We Build
Tailored Online Marketplace Solutions for Every Industry
B2B Marketplace Development
We excel in developing Business-to-Business (B2B) marketplaces, connecting companies and facilitating transactions for sourcing raw materials, products, or services. Our solutions are tailored to meet the unique needs of B2B interactions.
B2C Marketplace Development
We specialize in creating Business-to-Consumer (B2C) marketplaces, where businesses sell their products or services directly to individual consumers. These platforms are ideal for e-commerce and retail businesses.
C2C Marketplace Development
Our expertise extends to Consumer-to-Consumer (C2C) marketplaces, enabling individuals to buy and sell items to each other. We can build user-friendly platforms that facilitate seamless peer-to-peer transactions.
P2P Marketplace Development
Our Peer-to-Peer (P2P) marketplace development services empower individuals to share resources, services, or skills directly with others. We can create platforms that enable efficient sharing economies.
Product Marketplace Development
We specialize in creating product marketplaces, where sellers can list and sell physical goods to a wide range of consumers. Our solutions ensure secure, user-friendly e-commerce experiences.
Service Marketplace Development
We have the experience to build Service Marketplaces that connect service providers with customers seeking specific services. Our platforms cater to freelancers, local service providers, and professionals.
Horizontal Marketplace Development
Our Horizontal Marketplace development services cover a wide range of products or services within a particular category. We create comprehensive platforms with diverse offerings.
Vertical Marketplace Development
We specialize in developing Vertical Marketplaces that focus on specific industries or niches. These platforms are designed to cater to specialized audiences, offering unique products or services.
Rental Marketplace Development
We specialize in developing Rental platforms which facilitate the temporary use or exchange of items, such as Turo for car rentals or Rent the Runway for fashion rentals.
Crafting Success Step by Step: Our Development Journey
Consultation
We begin by understanding your business goals, target audience, and unique requirements. This initial consultation lays the foundation for a successful project.
Planning and Strategy
Our team devises a comprehensive development strategy, outlining the project scope, timelines, and milestones.
Design and Development
Our talented designers and developers work collaboratively to bring your marketplace to life, focusing on aesthetics, functionality, and security.
Quality Assurance
Before launch, we rigorously test every aspect of your marketplace to ensure a seamless user experience and iron out any bugs or issues.
Launch and Deployment
We manage a smooth launch process, helping you go live with confidence.
Post-Launch Support
Our commitment doesn't end at launch. We provide ongoing support, updates, and maintenance to keep your marketplace running smoothly.
We are true masters of the marketplace development domain, possessing the skills, experience, and insight to create digital marketplaces that outperform the competition and drive lasting success.
We excel in crafting robust, scalable, and tailored online marketplaces that cater to a diverse range of industries and meet your specific business requirements.
Our team of expert developers employs cutting-edge techniques and utilizes a variety of programming languages to ensure seamless data processing. We prioritize your unique needs, consistently exceeding customer expectations.
Get in Touch with us today to receive professional guidance on your online marketplace development project.
Our seasoned marketplace development specialists, skilled in technologies such as C, C++, Java, Python, and PHP, are dedicated to creating powerful, secure, and easily maintainable online marketplaces that drive your digital success.