A brand new type of digital good, known as a non-fungible token or NFT, is the focus of excitement at 1xNFT. NFTs possess unique properties such as provable scarcity, tradeability, and usability across multiple applications. Similar to physical goods, NFTs offer versatility in usage.
The NFTify platform is employed by 1xNFT, and the 10k NFT Angry Beans collection was first launched on it. All 1xNFT collections are supported on the Binance smartchain blockchain, and Angry Beans is the initial 10k collection on the 1xNFT platform. A unique combination creates each of the Angry Beans NFTs through programmable generation.
The 1xNFT website is a dynamic NFT marketplace built using a range of modern web programming technologies.
The website's front-end was developed using a combination of HTML, CSS, and JavaScript. These technologies were used to create the website's visual layout and user interface, as well as to add interactivity and dynamic content.
Several security measures were implemented in the website, including encryption of user passwords, two-factor authentication, and HTTPS protocol implementation to ensure secure data transmission.
Overall, the 1xNFT website is a well-structured, secure, and user-friendly platform developed by Techwink that showcases the benefits of modern web programming technologies.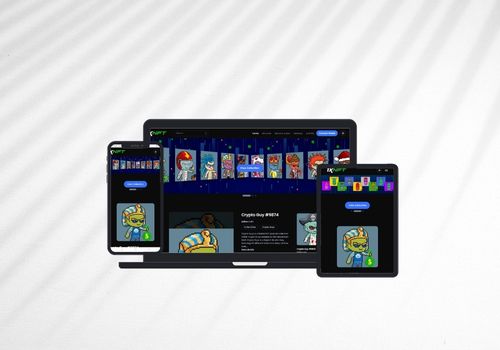 Techwink's Strengths At A Glance​
NFT Marketplace development
Our custom NFT marketplace development service offers a comprehensive solution for clients seeking to build their own NFT marketplace platform. We work closely with our clients to understand their requirements, goals, and vision for their NFT marketplace platform. Our team of experienced developers and designers will provide expert guidance and advice throughout the development process.
We combine our expertise in web programming, blockchain technology, and design to deliver a high-quality and fully customized platform that meets the specific needs and requirements of our clients.
Take a peek inside our Wonderworld