Even after building a complete website, you will find room to enhance your online marketplace website, building a website alone is not just the answer to various problems.  Although your website which you have built is responsive enough to operate through different devices, such as mobile, tablet, and desktop computers, yet this is not going to be enough to rank your online marketplace store among your competitors. This is one of the reasons why is mobile app is required for online marketplaces in 2023. If you're wondering what is an online marketplace? We recommend our expert explanation on the online marketplace
If you do not build a nice mobile app that connects your online store to the smartphone then you will surely be missing out on a lot of features, which will result in you losing opportunities too. According to research statistics of 2016, about 58% of mobile users were checking prices, discount offers, and reviewing products through their phones.
Also; about 66% of the mobile users were willing to make purchases via their mobile phone. It definitely indicates that if you do not have a decent mobile app developed for your online marketplace then you are going to lose your potential customers.
Another fascinating fact is around 2019 E-mobile sales targeted and successfully hit by and large $2 trillion, and by 2021 it may exceed up to $3 trillion which is a very considerable figure and cannot be neglected. Let us shed light on the benefits of a mobile-based app, and the reasons why you must have it along with your marketplace website.
Key Benefits of Mobile application in online marketplaces
We have discussed customer potential and how important it can be for your online marketplace as millions of people tend to use the mobile app more than a laptop, tablet, or PC to make purchases. Let us now talk about some of the main benefits your mobile app can offer you.
Dedicated Customers
The best thing about the mobile app is it brings you, dedicated users. Being on the web you cannot determine if it was your dedicated and loyal customer as compared to a user who likes to install the application into his mobile and then uses it.  This not only increases brand loyalty, but also users who install applications tend to share the links to their favorite social media channels, thus creating brand awareness, and brand impression.
App loads faster
Moreover; people love using the app as it is faster, it does not slow down as compared to PC, which gives people a chance to complete surveys, share items, and even browses through the items all day long. People do not have time to wait for too long to see the complete website. The fast application keeps the user engaged and gives them what they require.
Marketing Strategies
Aside from a user's perspective, the mobile app is a very good way to reach your customer anytime. Via a notification you keep your client updated and also make sure that he is getting every required update to become your potential buyer.
Push notification is one of the greatest examples of a mobile app marketing strategy. It is also a cheaper way to get to your customer. understanding strategies to develop an online marketplace is very important in 2023. We recommend 10 strategies for your online marketplace 
5 reasons why mobile App is required for online marketplaces in 2023
Although we have seen some key benefits of the mobile app, yet it is important to see why the mobile app has become mandatory for online marketplaces in 2023.
Better user experience
Have you ever noticed that working on a mobile application is quite easier as compared to a website; this is due to many reasons. A mobile app is faster which allows users to browser fast. Moreover; the additional features in the mobile app keep things up for customers, there are not only additional features but also the user interface of mobile is app way easier and friendly than any website.
This a very nice impact on people and they rate overall service satisfaction, even if your website is slower. You could launch a mobile app that would ensure your customers are having a better user experience through that mobile app for the Online Marketplace.
Higher conversion
Since a large number of people use the mobile app to browse and see through the items, they are highly likely to make purchases using their mobile app. Even if they do not buy right away. They keep things in the cart and whenever they come across the item again that you can control through target marketing and push notifications and they give you a higher conversion rate.
 The conversion rate in the mobile app is higher than website and tablet. Most audiences these days exist on smartphones and like to operate through them. Another reason why the conversion rate is higher in the mobile app is due to push notifications, and saved information of buyers, which does not give the buyer a difficult time filling in details every time.
Higher revenue
Higher revenue is directly connected with a higher conversion rate since the mobile app has the most conversion rate, it also generates higher revenue. The most profitability is based on conversion rate. This means if you have a mobile app for your online marketplace, you will be connecting with thousands of your potential customers and leads which later will be generating profit for you.
Time-efficient
Most of the time people tend to make purchases from websites that are not heavy, mobile apps do the trick here; they are lightweight, load faster which makes them time efficient too.
Many people do not have time to log in to their desktop system or laptop for shopping; they like to rummage through items from their cell phones, which enables them to save a lot of time. Time efficiency is what people looking for and thanks to the mobile application.
Returning buyers
Another nice feature that the mobile app possesses is keeping track of buyers. If a customer has purchased from you there are a lot of ways to persuade him for further purchases. Additional discounts offer, sales, and coupons are a very nice way to keep users visiting your store. And this can be done via the power of the mobile app.
When a buyer signs up on your store, further information can be taken through a mobile app. Not only it helps you set the targeting ads, but also it gives you a chance to closely attach the customer to your store, which results in buyers continuing to purchase from your store.
Things mobile app should have
Building a mobile app is mandatory but it requires a lot of technical aspects to provide you with efficient conversion. Without having these underlined features. Your app may be worse than a website and might lose traffic. Let us look at some of the most important things online marketplace applications should have.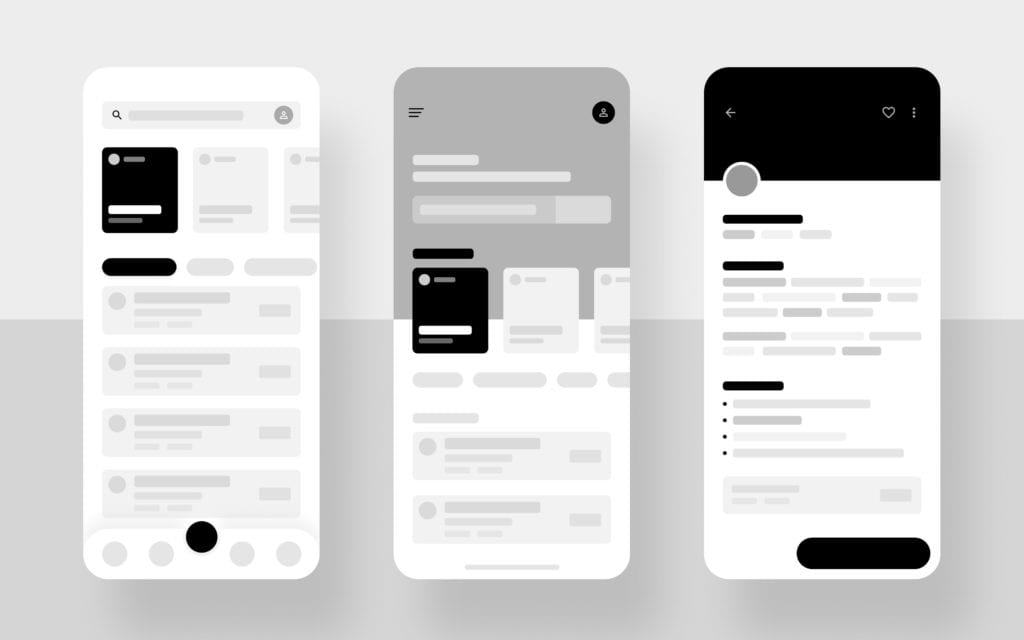 Simple Sign-up procedure
Signing up is the most basic step that a user encounters, and if you make it difficult for him to sign up then probably the sales cycle will not start. According to research. Many people leave the signup procedure just because some websites make it significantly difficult for them to sign up.
Just ask for required information, and keep everything very simple, refrain from having way too many fields. Also, offer them an easy sign-up option with the help of social media or Google sign-up. Make sure everyone has a fair chance to sign up.
Fast transactions methods
Fast checkout is another powerful thing that has a very strong impact on users, especially on your potential clients. People who are serious buyers would not bother going through difficult checkout when they have numerous options to buy from. A perfect marketplace application should integrate all the payment methods and ways for your customers such as; biometric payment methods, 1-click payment, Google pay, etc.
Notifications for marketing strategies
Do not neglect that the major reason for a mobile app is to drive a higher conversion rate and if your mobile is not built that way it is not going to give you any benefit. Your mobile app should abound with all the marketing strategies your business can require for future sales. The best method is to push notifications.
These techniques help your business to connect with your clients. And also it is a great way to keep them updated about their order status. Later you can add many marketing things under push notifications.
Feedback
It is very important to have a feedback and review option. This builds up trust in your buyers and they will deeply appreciate you for this, which is another reason why a mobile app for online Marketplaces is important.
Enable your online marketplace website application to let your customers write about their experiences, let them write reviews, and rate their purchases. That way you will also have an idea if you are keeping up with the standard. The feedback option is the foundation. And you can improve your services and any loose ends based on users' reviews.
Conclusion
The mobile app is an essential part of the digital era. Especially if we talk about the online marketplace in 2023. There is no way one can drive the highest traffic without having mobile connectivity. The most important thing is how you utilize it. Make sure your application has technical things. It should be simple yet powerful
Do you want to create an AI App?
Talk to Our AI experts and learn how to quickly bring your idea to reality.
Most frequent questions and answers
One of the most important reasons to build a mobile app for your business is customer loyalty. A mobile app allows a business to directly communicate with its customer. In-app purchases, ads, and promotions have a greater impact on the customer as compared to roadside banners, social media ads, and email marketing.
An app makes it easier to promote your products (or services). Companies with mobile apps make better impressions than those without one. A mobile application will make your business stand out, and frequent updates help develop customer interest in your products.