If you are thinking about starting an online business, then there are several roads you can take. E-commerce stores and online marketplaces are the most effective ways to achieve your goal.
The choice between the two depends on your business's state, needs and goals. If you know the difference between the two, then you will be able to figure out what to choose.
At Techwink, we provide you with both the services that you can easily start working on your dream project. To make a visitor's first impression the best, you need to ensure certain things.
Like, whether your website is appealing and user friendly. You should also have an idea of the types of products or services you provide. Also, ensure the quality of the products sold by the merchants and create your FAQ and About Page effectively. 
Now, if you are wondering about creating an online marketplace, you've come to the right place. This blog will tell you what is an online marketplace, its features and why you should create one.
What is an Online Marketplace?
Online marketplaces are sales channels where multiple merchants can sell goods or services to their customers. It is basically a digital platform with websites and online or offline mobile apps.
The role of a marketplace owner is to bring together the sellers and customers to drive sales through an exceptional multi-vendor platform. When the sellers get a place to gain visibility and sell their products, the marketplace owner earns a commission from each sale.
If you're wondering about the tricky problem of getting both sellers and buyers to join a new marketplace, our article on 'How To Solve the Chicken and Egg Problem' has some smart solutions.
Now, can you think of some popular online marketplaces?
You will be familiar with these companies as they are the pioneers in this industry. And I am sure that you've been a patron of at least one of these because that's how popular they are.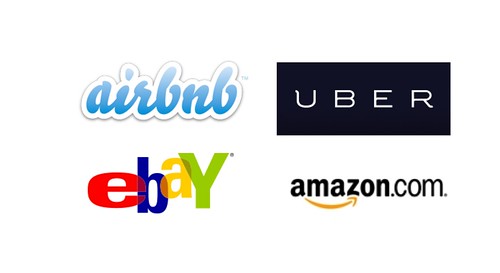 These are considered online marketplaces because thousands of merchants can sell their products or services to the customers that browse the website. While some companies work with external marketplaces provided by the global giants like Amazon or Alibaba, some others built their own marketplaces.
Unlike the online store owners, online marketplace owners do not own the inventory their platform sells. But there are exceptions like Amazon. Here's something that Tom Goodwin, an expert in Digital Transformation, said about it:
Uber, the world's largest taxi company, owns no vehicles. Facebook, the world's most popular media owner, creates no content. Alibaba, the most valuable retailer, has no inventory. And Airbnb, the world's largest accommodation provider, owns no real estate.
Also, when customers make purchases from a marketplace, the sellers get a notification that someone has purchased their product, and then, each seller can individually ship and send their products to the desired customers.
This means that, although a customer can complete a transaction on an online marketplace when purchasing from multiple sellers, they'll receive a shipping package from different merchants they ordered from.
Another thing about the online marketplace is that they usually focus on one particular niche. Just think of Amazon which started as an online marketplace for booksellers but today it offers anything and everything around the world.
Likewise, Airbnb started as an online marketplace to rent rooms in San Francisco but now it's providing its services to both the locals and the travelers all around. So marketplaces seem to be more successful when they focus on one niche.
It's because it gives the customers a reason to purchase from there and when they do, they know what to expect from the merchants selling on the marketplace.
Features of Online Marketplace:
Before we get into the features let's just think about the 3 main parties that make an online marketplace possible – sellers, buyers, and the platform. Now, put yourself in their shoes.
What do you think they want from this? The sellers want to sell (i.e, listing, selling, and dispatching), the buyers want to buy (i.e, searching for products and purchasing) and the platform connects both for making revenue ( i.e, by having the right tools to support the marketplace business model).
Now let's just dive into the features.
While developing the marketplace you've to consider the following:
Inventory
Online marketplaces are large businesses that deal with different vendors who provide their catalogs and typically carry much more inventory than online stores.
Usually, when an online store owner manages their own stock and inventory, they have to invest heavily in stock acquisition and management on starting the business (except for drop shipping models).
But in the case of an online marketplace, the catalog offered is held by external vendors and thus, the investment in stock management is not a big deal (except for hybrid marketplaces).
As a result, the marketplace owners just need to make sure that their sellers are adhering to the quality regulations and guidelines.
Customer satisfaction
When operating an online marketplace, there's so much to consider like inventory management, site management, customer service, marketing, sales, social media, content, etc.
But when you are running a marketplace, the main focus is simply to offer the best platform for the users, i.e., for the sellers and the customers they sell to.
With different merchants selling at a single platform, marketplaces tend to give an exciting shopping experience for customers as they find cheaper options and new alternatives.
So, if a marketplace functions well then it can be a huge community of highly satisfied customers.
Scalable
They offer more lean and scalable business models to the marketplace owners. Some of the world's biggest marketplace owners like Uber, Airbnb, and Amazon are great examples for the same.
As Tom Goodwin said, they don't own what they sell but they are creating a platform for the sellers and consumers.
While they have to sell a large number of products or services, the fact that the focus is on the platform and reaching more customers means that economies of scale are easier to achieve.
So, when compared to other digital businesses, those who are new to the marketplace will be surprised by what they achieve with a relatively small team.
Shopping experience 
One thing that unites all the vendors on a marketplace is that there's just a single checkout process. When customers shop on this platform, they don't have to click away to different websites to complete the transaction.
So when you buy from different sellers on a single platform at the same time, there won't be any complication even though the merchants aren't associated with each other.
Why you should create an Online Marketplace?
Do you know that over 60% of sales happen through online marketplaces?
Some of the most successful companies worldwide like Amazon, Airbnb, and Uber operate under this model. Also, it is rapidly dominating the world of e-commerce and the marketplace revenue is expected to double by 2022.
Lean and scalable
The online marketplace has already become an attractive option for those looking to move into e-commerce. Due to their nature as multi-vendor platforms, it may seem like marketplaces are much more complex than other businesses.
But the truth is that the marketplace model is surprisingly lean and scalable for new start-ups. A lot of people choose this because you've little responsibility for the products or services and you've no inventory. That's very appealing when you think of starting a business.
Convenience
On a marketplace, your users can sell products at a cheaper price and in a very convenient way. It also creates a sense of community where both sellers and customers can support each other in niche markets.
If a niche offers products that can be sold or rented at a cheaper price (something the big-box retailers can't provide), then you should probably start a marketplace. 
As discussed earlier, an important thing about the marketplace is that it offers inventory from multiple providers. It doesn't sell its own product; rather their business is to present other people's inventory to a user and facilitate a transaction.
It's ideal for entrepreneurs who want to offer a service without investing a lot of their capital into the business. Also, it'll be a perfect platform for merchants to earn revenue by selling products that they couldn't sell otherwise.
Satisfied users
Usually, customers don't like using apps from single retailers. They will be more interested in having an app that offers product ranges broader than one store can offer.
Essentially, for customers, shopping in an online marketplace is like shopping from several e-commerce stores at once. Also, they will be able to pay all the merchants in one transaction rather than in many transactions.  So that's one of the major appeals of an online marketplace.
Just think about your major concerns while you shop online. Is it about quality, reliability, and safety? Mostly you will be doubtful whether to trust those stores or not. This is why most people choose online marketplaces instead of e-commerce stores.
The fact that many famous merchants are selling on this platform can definitely strengthen the trust in customers. They trust such platforms more than other online stores for the fear of getting trapped by fraudulent merchants. So they feel more confident while buying products from online marketplaces. 
Increasing demand
The pandemic had definitely increased the number of online shoppers due to the risk of shopping from a local store. As people have already embraced social distancing, there has naturally been a decline in local shopping.
That means there would likely be an increase in online shopping. More customers will turn to e-commerce for purchasing things that otherwise they would have purchased from an offline store.
These are the reasons why you should create an online marketplace! 
Now, I think you can easily decide whether this model suits you or not. 
If you're curious about keeping things safe when you buy and sell online, check out our other article about '
End-To-End Encryption In Online Marketplace
.' It explains how to make sure your transactions and info stay secure.
Most frequent questions and answers
We start with the complete list of 153 marketplaces, then we look at the most popular product categories, and the best-served global regions and countries.
An online marketplace is a website or app that facilitates shopping from many different sources. The operator of the marketplace does not own any inventory, their business is to present other people's inventory to a user and facilitate a transaction. 
Amazon
eBay
Walmart
Etsy
Alibaba.com
Google Express.