AI Development Services for Lawyers and Law Firms
Elevate Your Legal Practice with Cutting-Edge AI Solutions!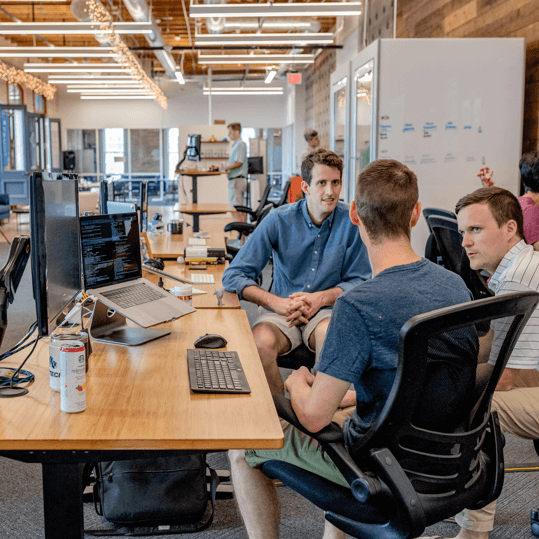 Why Techwink for AI Development Services?
We understand the complexities inherent in the legal field and recognize that our AI solutions are designed to complement rather than replace your expertise. By leveraging AI, you can reclaim valuable hours otherwise spent on repetitive tasks such as research, document drafting, and case analysis, allowing you to redirect your efforts toward more impactful work. Our AI tools promise a heightened level of precision in contract review, due diligence, and legal research. We appreciate that each legal practice possesses its distinct requirements, which is why our AI solutions are fully customizable to align seamlessly with your unique needs.
Harness the Power of AI for Legal Excellence
Empowering Lawyers and Law Firms with AI Development Services and Tools

Document Automation
Utilize AI to craft bespoke document generation tools for automated legal document, contract, and form creation, while employing NLP algorithms to extract and summarize vital information from legal documents.

Legal Research
Craft AI-driven legal research tools capable of swiftly mining extensive legal document databases for pertinent case law, statutes, and precedents, and employ machine learning algorithms to forecast case outcomes using historical data.

Contract Analysis
Develop contract analysis software leveraging machine learning to extract and categorize contract clauses, terms, and obligations, alongside AI-powered redlining and contract comparison tools for enhanced contract review and negotiation efficiency.

E-Discovery
Establish AI-driven e-discovery platforms for automated identification and categorization of pertinent documents and emails during litigation, while implementing predictive coding to minimize document review time and cost.

Virtual Legal Assistants
Design virtual legal assistants or chatbots proficient in managing routine client inquiries, appointment scheduling, and offering fundamental legal information, enhanced by integrated natural language understanding for effective communication.

Compliance Monitoring
Create AI systems to continuously monitor regulatory changes, notifying law firms of potential compliance issues, and incorporating AI-driven risk assessment tools to proactively identify and mitigate compliance risks for clients.

Legal Analytics
Develop data analysis tools capable of examining extensive datasets to detect trends, monitor court rulings, and evaluate the effectiveness of legal strategies, while offering clients data visualization dashboards to gain comprehensive insights into their legal matters.

Intellectual Property (IP) Management
Construct AI solutions to efficiently manage IP portfolios, encompassing trademark and patent management, and incorporate AI-powered patent search and analysis tools for enhanced intellectual property management.

Ethics and Bias Detection
Deploy AI algorithms to identify and mitigate biases in legal documents and decision-making processes, and uphold ethical standards in legal practice through AI-powered audits
Are You Ready to Transform Your Legal Practice with AI?
Explore the world of possibilities that AI development services can bring to your legal practice. From increased efficiency to enhanced client engagement, AI is reshaping the legal landscape. Book your free consultation now and embark on the journey to a more innovative and successful legal career.
Unlocking Transformative Benefits
Elevate Your Legal Practice with Our Tailored AI Development Services for Lawyers

Time Efficiency and Productivity Boost
No more spending endless hours on research or drafting routine documents. Our AI systems work tirelessly to handle these tasks, freeing up your time to focus on strategic thinking, client interactions, and case-winning strategies.

Data-Driven Insights for Informed Decisions
With AI-powered data analysis, you gain access to insights that were once buried under layers of legal documentation. Make well-informed decisions backed by data-driven predictions, enabling you to navigate cases with confidence.

Error Reduction and Precision
Human errors can be costly in the legal world. Our AI solutions ensure precision in drafting documents, contracts, and legal papers, minimizing the risk of errors and helping you maintain a reputation for accuracy.

Enhanced Client Engagement and Satisfaction
Personalization is key in client relationships. Our AI tools enable you to deliver tailored legal advice, forecasts, and communications, showing your clients that you truly understand their needs and are dedicated to their success.

Competitive Edge in a Changing Landscape
As the legal industry evolves, embracing AI is essential to stay competitive. By integrating AI into your practice, you position yourself as a forward-thinking, innovative lawyer who is ready to provide cutting-edge solutions to clients' legal needs.

Increased Profitability
By streamlining processes and maximizing efficiency, our AI solutions contribute to increased profitability. You can handle more cases, deliver higher-quality services, and make the most of your time – all factors that contribute to a healthier bottom line.
The Advantages of Investing in Our AI Development Services
Investing in our AI development services is a strategic move that can lead to increased competitiveness, operational efficiency, and enhanced client satisfaction, all while reducing costs and positioning your organization for future growth and success.